Villa in Playa Blanca, Lanzarote, Canary Islands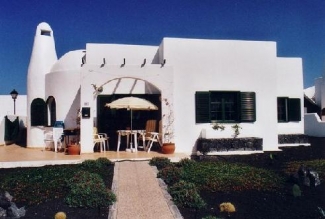 Our villa is situated on an exclusive & tranquil residential development, just a short ride away from the centre of Playa Blanca. Built in a typical Moorish style & tastefully furnished to a very high standard, it is fully equipped with all the comforts of home. The complex nestles at the foot of Montana Roja & boasts peaceful gardens, childrens' play area, tennis court and an enormous communal swimming pool.

Lanzarote is often described as a perfect year-round destination, with only 5.5 inches of rainfall per year and average temperatures between 21°C in January and 29°C in August. The island is home to the best volcanic attractions in the Canaries, including the largest volcanic tunnel in the world, the "Tunnel of Atlantis" is 1500 meters in length and is believed to be 20,000 years old.